MS 70 - 462 Administering Microsoft SQL Server 2012/2014 Databases Practice Exam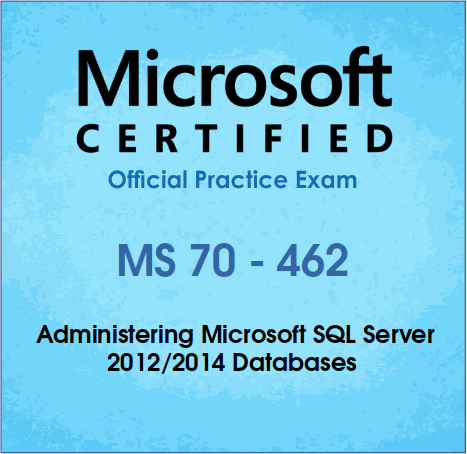 MS 70 - 462 Administering Microsoft SQL Server 2012/2014 Databases Practice Exam
---
---
Generate your quote and pay online via credit card or via EFT. A representative will contact you in 24 hours to arrange details of your purchase and make any required arrangements. If you prefer, call us to discuss on +27-11-7818014.
Administering Microsoft SQL Server 2012/2014 Databases Practice Exam

Need an exam practice voucher? You have come to the right place.
The MeasureUp Practice Test 70-462 prepares candidates for the Microsoft exam 70-462 Administering Microsoft SQL Server 2012 Databases Certification.


Candidates are database administrators who install, configure, and maintain SQL Server 2012 servers, instances, and databases.


Candidates are typically responsible for securing and backing up data and optimizing access to the data stored in the databases.

Passing Exam 70-462 counts as credit toward the following certifications:
Microsoft Certified Solutions Associate (MCSA) SQL Server

Microsoft Certified Solutions Expert (MCSE) Data Platform